Designated as one of the seven best bike routes in the world by CNN, we were determined to discover the Shimanami Kaido on our Shikoku roundtrip in the summer. Not only did we have high expectations, but this trip turned out to be one of our best holiday experiences in Japan.
Getting Started
The Shimanami Kaido is a 64-km long cycling path across five bridges and six islands stretched out over the Seto Inland Sea with Imabari (in Shikoku) on one end and Onomichi (Hiroshima prefecture) on the other. Coming from Shikoku, we started out in Imabari where we had reserved two Giant cross bikes at Sunrise Itoyama, as well as a parking space and a night at the cycling hotel for our return after two days of cycling. The bike rental station was impressive and they are well equipped for all kinds of cyclists, from pro cyclists to those who just want to cycle for a few hours with an electric bike.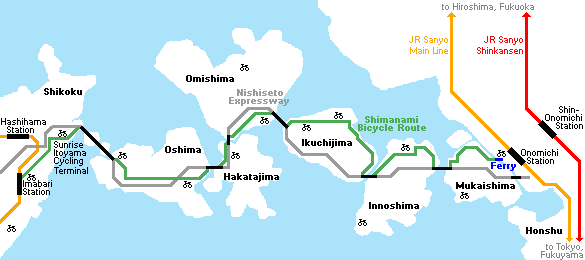 Off we go!
Prepped with light day bags and no hotel booked for the night, we started off on our cross bikes cycling over the enormous, bike friendly bridges with stunning views over the Seto Inland sea, while stopping at various small islands to embrace local island life. It was a hot and humid day and thanks to an extensive google maps of all the shops, restaurants, cafes and hotels across the islands, we were able to locate a small restaurant on Omishima Island. We had a wonderful break there as the locals served us fresh orange juice and a 3-course meal with fresh ingredients. They were happy to see tourists stopping by, we had a chat and they asked us to leave them a message in a book.
As we thoroughly enjoyed the cycle thanks to the excellent bikes, smooth pathways and breathtaking viewpoints, we made good progress and decided to cycle the whole 64-km long route. Throughout the day I had checked what hotels were still available on the other side and we booked a hotel on the last island looking over to Onomichi to celebrate our achievement.
There are two cycling options on the Shimanami Kaido: you can either follow the recommended blue route, which is fastest and easiest, or you can follow red and yellow routes that take you round the scenic way, but are more hilly and take longer. As we mostly followed the blue route on the first day, we decided to cycle back some parts of the yellow and red routes which followed the coastline and were just absolutely stunning. On one island we took the very scenic route and climbed a steep hill with our bikes to go on a 360 degree observation platform. The salty ramen gave us strength and it was yet another accomplishment.
We stopped by the beach, paced down the bridges and hills and said hello to many friendly cyclists we met on route. In my opinion, anyone who is into cycling and plans a holiday in Japan should plan at least two days cycling on the Shimanami Kaido! It's an unforgettable experience.
'Just a few more kilometers', we were thinking, cycling the last 20 km in one go to get back to Imabari just before it got dark. It was just past the blue hour when we cycled over the final long bridge along a few other cyclists and we soaked in the final stunning views over the sea before arriving back at the cycling station and hotel. Before we returned the bikes it was time for a final photo with accomplished smiles! Little did we know then that the evening would get even better with us being able to have pizza and local craft beer in the hotel's upscale restaurant and finally checking in to our very cosy and spacious room that we had booked out of convenience without having seeing photos.
This cycling trip was definitely an unforgettable experience and I can't wait to do it all over again in 2021!
– Her
If you love cycling as much as we do, these blog articles might of interest to you: